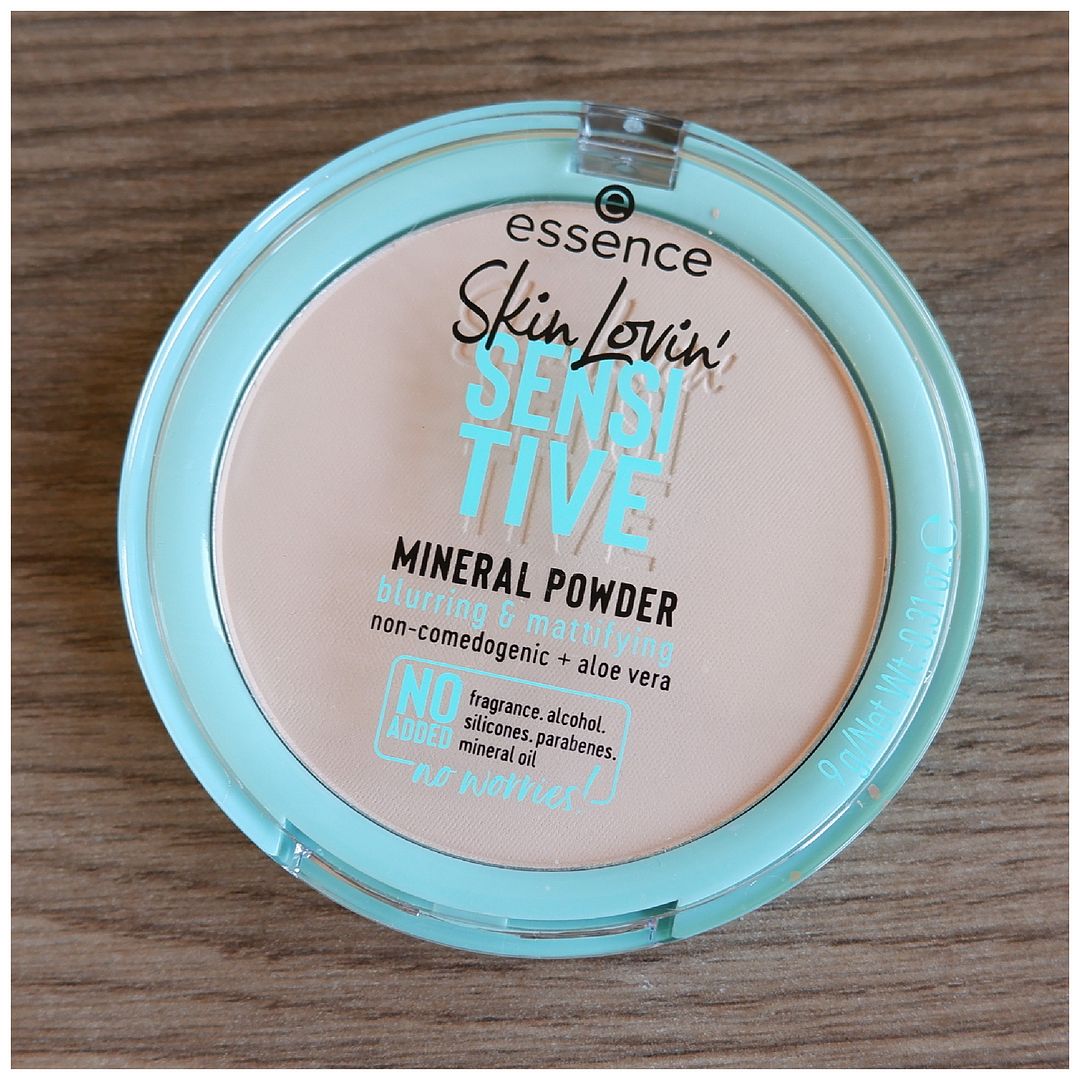 In today's review we are having a closer look at the Essence SkinLovin' Sensitive Mineral Powder. The last powder I reviewed for you was the Charlotte Tilbury Airbrush Flawless Finish powder and guess what? This powder is toted as a possible drugstore dupe of that much more expensive powder. Now that I have tried both powders for a few weeks I can definitely tell why people feel these may be similar. While they give me a similar vibe, I do not think they are exactly the same, but that's of course not what matters most. What matters most is if this powder does what it needs to do. Let's find out!
Review: Essence SkinLovin' Sensitive Mineral Powder Blurring & Mattifying 01 Translucent
Since this is an Essence powder, you will just know that this is going to be an affordable product. At just €3.59 is certainly much much cheaper than the Charlotte one which retails for €42. So no matter how similar these are, if this powder works, then it is always going to be worth the price point. Because this price is certainly cheap for a powder. I am usually quite picky and a bit of a powder snob as I have dry skin and many powders just don't work for me. So most of my favorites are quite expensive so finding a powder that is a fraction of the price of my usual fair is always a good thing.
What does this powder have to offer?
The Essence Skin Lovin' powder is formulated especially for sensitive skin. It is a talc free formula which should mattify your skin and blur imperfections but without feeling heavy. And that's exactly what this does. I have really been enjoying this and having used the Charlotte powder before this one I can really say that while they aren't the same product, these do look similar once applied to the skin. The main difference between the two is that I think the Charlotte Tilbury formula is more lightweight and more loosely pressed than this one is. The Essence powder has less kickup, never looks heavy on the skin but is a bit more noticeable, but it never looks cakey or overly makeuppy. I am very impressed with how this sits on my skin!
How does this powder swatch?
Can't see a swatch? It's there though! Right in the middle. So that shows you how translucent this powder is as it barely shows up in a swatch. In a powder that is exactly what I am looking for as I want a powder to really disappear on my skin and be invisible, you want it to swatch as nearly unnoticeable as that will give the best results. So this powder ticks all the boxes in those terms. What I love about it most is how it looks on my skin though: this never looks cakey and it doesn't accentuate any dryness. And most importantly, it makes my makeup last, even under a face mask.
How does this powder apply?
When it comes to powders, I tend to go for a more targeted application. I use a Sigma F25 with many of my pressed powders and it picks up the right amount of product every time. I then apply it to my chin, nose, forehead and under eye area. The rest of my face, as those are the parts that are driest, I never powder to begin with. Above you can see my face without the powder on the left and with powder to the right. As you can see the powder mattifies my face, but it doesn't look like: ooh I'm wearing makeup. It still looks wearable and it doesn't make my makeup look cakey at all.
My final thoughts
Is the Essence SkinLovin' Sensitive powder my new favorite powder? That is perhaps a little too bold of a claim to make, but in terms of drugstore/ affordable powders this is certainly one of the best ones that I have tried. I was pretty surprised because most Essence powders I have tried just weren't it for me. But this one? It ticks all the boxes: it wears well, is non-cakey, doesn't look too noticeable and just does what I want a powder to do. So when it comes to choosing between this one and the Charlotte powder which one to repurchase, then I would definitely pick this one as it just is a much better deal.
Would I recommend the Essence SkinLovin' powder?
Yes! This is a great little powder and I would recommend everyone to try it. If you are looking for a great affordable powder that just does what a powder should do and still look natural than this is the one for you. Why pay over €40 for a powder if you can get a very similar product at almost a tenth of the price? Now the only hope I have is that they do this in some more shades because I think it may leave a cast on darker skin tones and if you they could do this with a bit of a more luminous finish I would like this even more.
What super affordable product surprised you most?