You know Essence can do good makeup, but we also know that Essence is the brand that likes to hop onto trends blindly. So not all the products they do are a hit. That's why today we are taking a closer look at the new Essence Multichrome Flakes eyeshadow topper and as ask ourselves: gimmick or musthave?
This product comes in two shades. The blue one is 01 Galactic vibes which has slightly chunkier sparkles. The pink one is 02 Cosmic Feelings and has a finer sparkle. Both are a gel texture that dries down completely once you apply it.
Review: Essence Multichrome flakes eyeshadow topper
One thing that I do appreciate is that Essence always manages to keep things affordable. No matter how wacky their products get they stay under or within the €5 range. This is no different: at €3.95 a pop this can be a great affordable option for everyone who has been wanting to try multichromes but finds it expensive.
What does this product do?
The product name actually says exactly what you can expect: these are eyeshadow toppers. So the idea is that you do your eyeshadow as normal and that you can top these over it to create some insane multichrome sparkle effect. The gel texture starts off very wet feeling but dries down quickly, but still gives you enough time to rearrange things to create the effect you like. Once it settles down, this does not budget and lasts all day.
How do these multichrome flakes perform?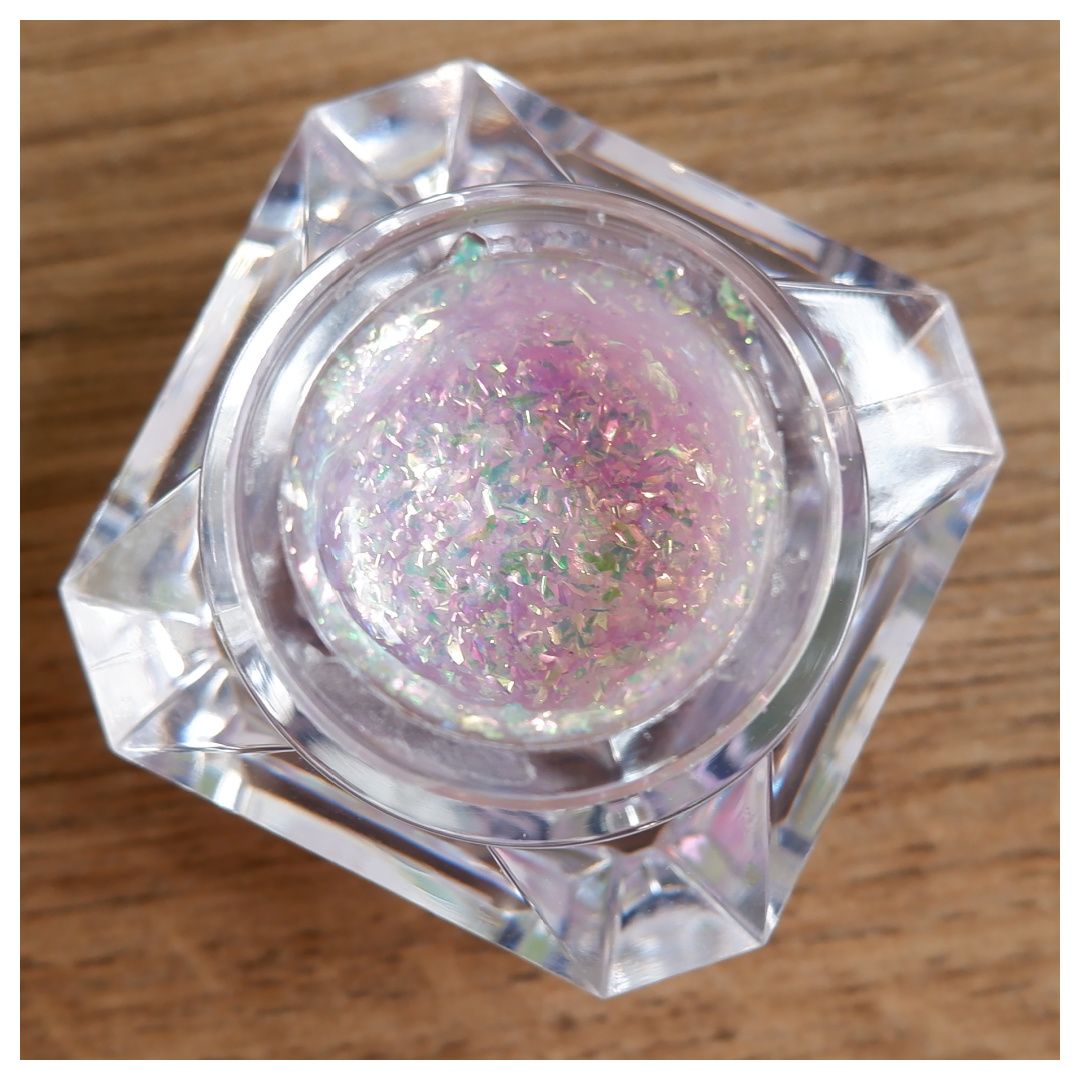 I used both shades at least once to try them out. Because the textures are so different I had to make sure that the chunkier particles in the blue toned one wouldn't effect the performance and vice versa. I tried the pink toned one on a day where I went to a dance party in 30+ degree whether while I tried the blue on a regular day. Both times they stayed put after letting it dry completely. So these truly last and will transform every look.
How do these flakes swatch?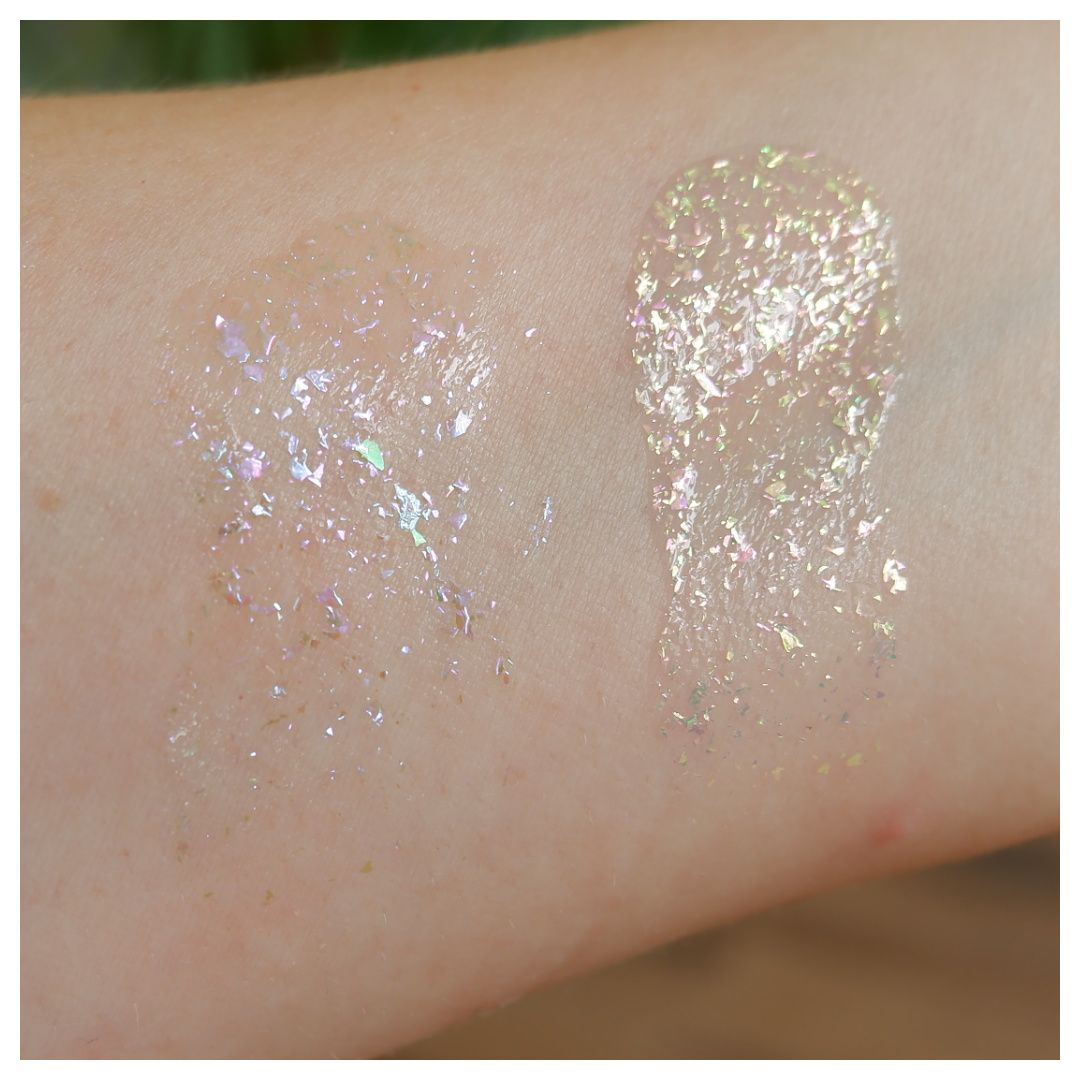 One thing I don't love about these though is how they apply. I like applying these with a silicone applicator and my fingers for the best results, but the gel gets tacky quickly so you have to work in small sections.
Because the sparkles are quite chunky it can take some rearranging for it to truly lay down flat and if you don't you'll end up with the feeling of having glass shards on your lids. Not a great feeling.
To top things off the formula is quite thick and gloopy making it difficult to work in think layers which would allow you to build it up to full intensity. That's why the final result will always looking a little bit sparse.
Should you buy the Essence Multichrome Flakes?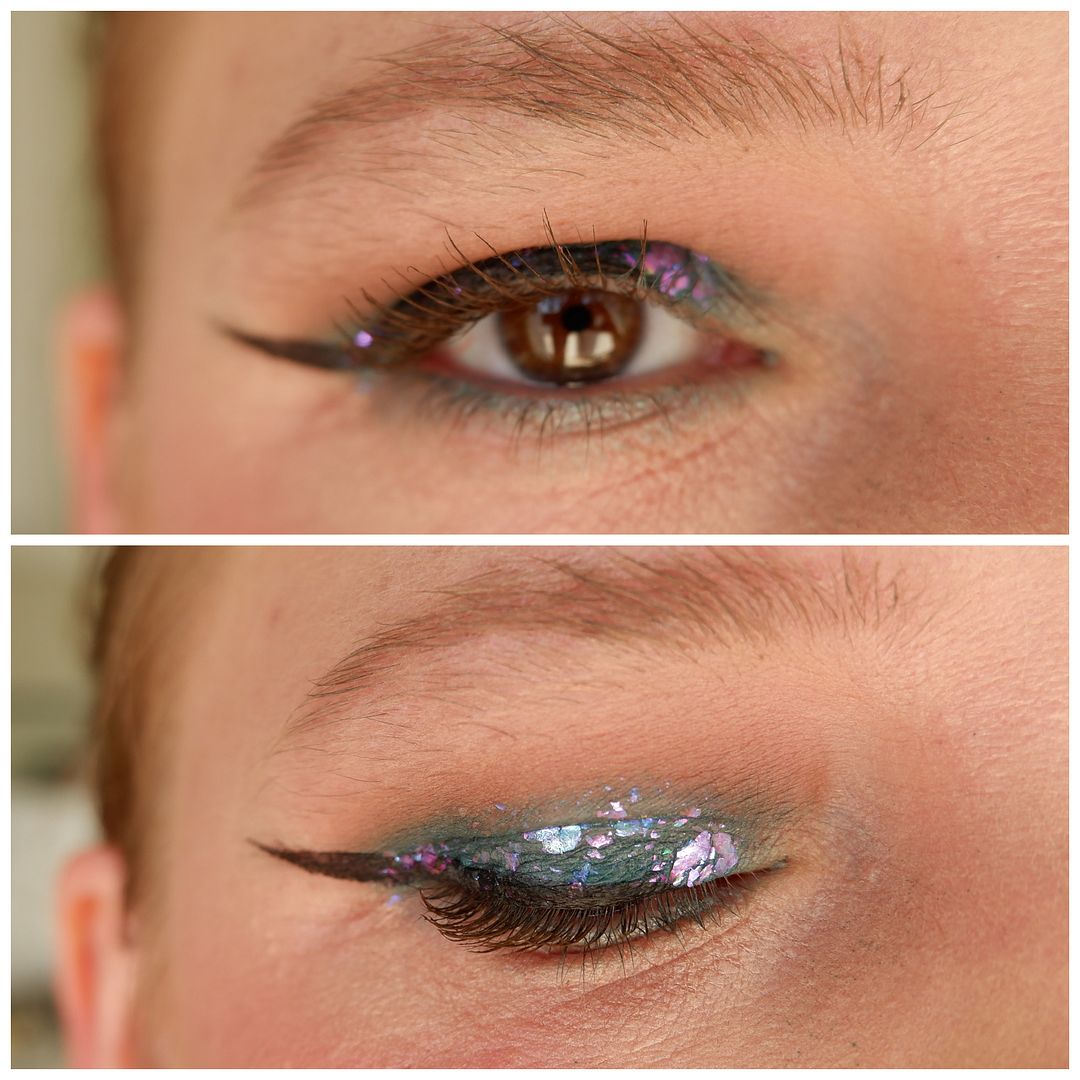 The name makes it quite obvious: these are toppers and not meant to go on fully opaque. But still, I wanted a little bit more from these. It was hard to get an even layer on due to the thick texture and the chunky flakes. It looks pretty and didn't lift off my eyeshadow underneath but it ultimately felt like I was applying hairgel to my lids.
So while these are pretty and really fun for a party look, I don't think these are a musthave. You could of course not only use these on your lids, but these could also work elsewhere on the face. Just bear in mind that when the gel dries down it will feel like a layer of glue stuck to your face. Sensory whise that isn't the greatest feeling in the world, but definitely a fun one for a New Year's Eve or Christmas party.
*Link is affiliated.
What do you think of this product? Gimmick or musthave?