For this week's eyeshadow palette review I am looking at a discontinued one. And one that I still have but not in this format. In fact, Colourpop Menage a Muah is one of the palettes that I have reorganized and completely overhauled in a video last year. Many Colourpop color stories just turned out not being perfect as I was trying them and so I rearranged nearly all of them by now. Menage a Muah was one of them as well. I combined it with other mauve tones I had from the brand to create my ultimate mauve palette. This review is for the original palette.
Review: Colourpop Menage a Muah eyeshadow palette
By now this palette is no longer for sale, but Colourpop does many rosy toned palettes so I feel this is not that unique as far as rosy/ mauve toned palettes go. This retailed for $18 but I got mine on a sale. I always buy Colourpop on sale as I am in the EU and without the discount it just gets too expensive as I have to include all the shipping and handling fees. So I wait for a sale, make sure I have enough to qualify for free shipping and that's when I place the order. That way I can manage it a bit better and it doesn't get out of hand.
What does the palette have to offer?
Menage a Muah is a 12 pan eyeshadow palette with mainly mauve and rosy leaning shades. This was part of a holiday launch and the other palette that came with it was the Boudoir Noir. This palette is from the era when Colourpop insisted on including pressed glitters in every single palette. So those are some of the shades I replaced. It also skews quite light, but there are some deeper shades in the bottom as well.
What is the color story like?
Another reason why I wanted to reorganize this was because it was so very very light. The entire top row is nothing but renditions of beige. Pretty? For sure, but once you put some palettes together you'll find that every palette on the planet has these kinds of shades, so did we need all four? Not really. The middle row is the most interesting as that's where we get our rosy/ mauve tones. The mid toned rose tones are very pretty and those I have kept around. The bottom row has some deeper berry leaning plum shades which are very pretty. What I wish this had? Instead of glitter some good metallic shimmers.
How does this palette swatch?
On my fair skin this swatches very beautifully. The first four shades are indeed quite light but the shimmers are quite nice. The rosy/ plums pull more neutral on me and there are mainly mattes in this color range. The deeper shades don't swatch the best, but overall the colors come together quite well. The mattes out perform the shimmers for sure so for me what this needed was a bit more actualy shimmer and metallics and less chunky shades.
How does this palette look on the face?
I did two looks with this palette. I did a look with the deeper shades and I was suprised to see this turns into a sultry berry/ glam look. I love berry glam looks in the fall/ winter time. Does it make me look extra pale? Yes, but I actually like amping that up from time to time and wear a look like this with a deeper lip shade. The second look is more neutral and I did use the pressed glitter on top, but I really would have preferred that shade in a different formula.
My final thoughts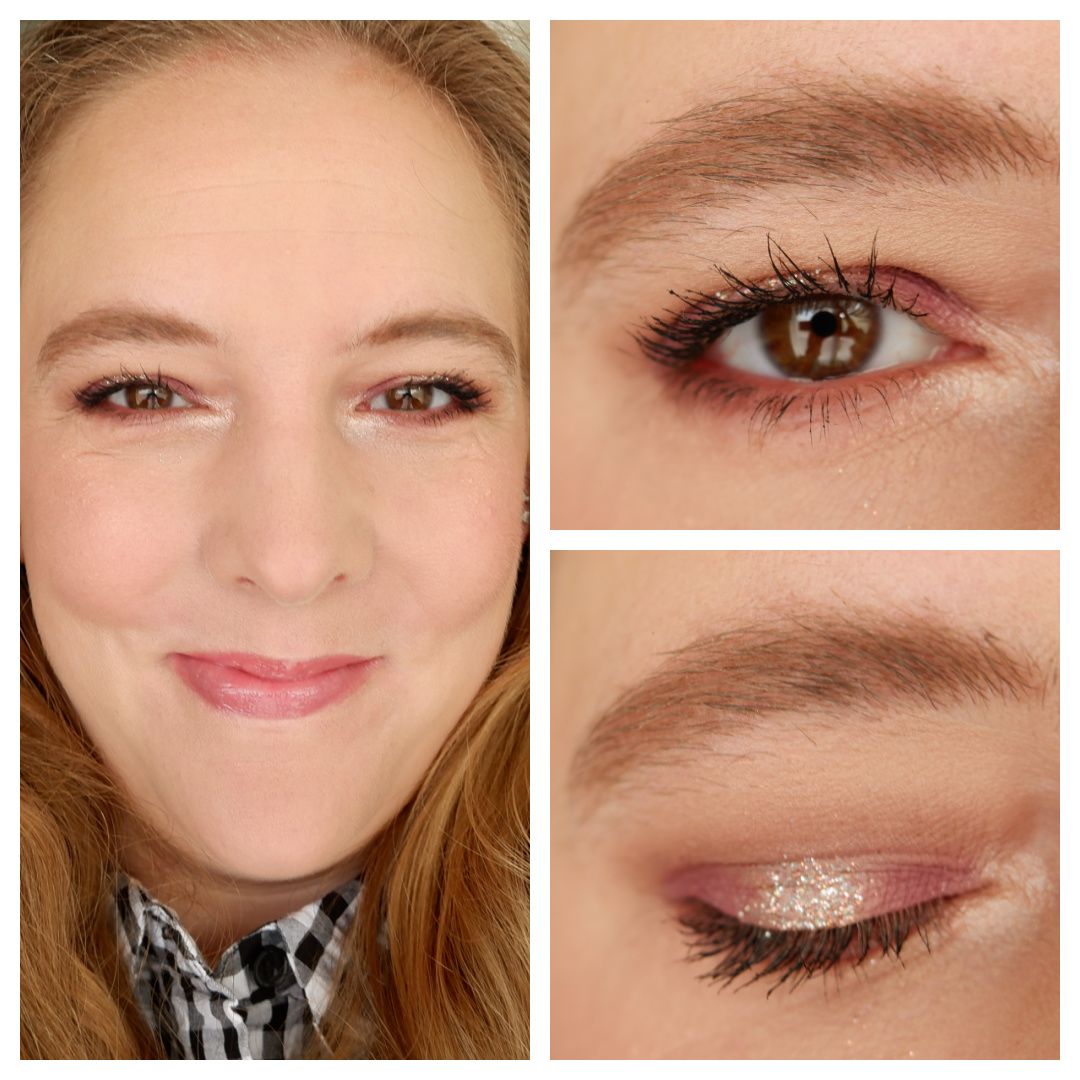 While I created pretty looks with the Colourpop Menage a Muah, I now look at these pictures and know that my updated, revamped version of this palette is just so much better. This palette just lacks dimension in both shade range as well as texture. There just isn't enough going on to make this a super versatile palette and I think I did the right thing to reorganize mine.
Would I recommend the Colourpop Menage a Muah palette?
No, because you can't get it. But Colourpop can do good eyeshadow. I am not convinced on their new palette formula where the pans are a little bit bigger. The color stories can also be a bit lackluster. Therefore I would suggest to choose wisely and not fall for the hype these palettes can generate. Stick to what you know you'll love and what you'll get use out of and you can find good eyeshadow for a good price.
What is a discontinued palette you rearranged or wanted to rearrange?