Zara fragrance: not something that was necessarily on my list of perfumes to try. Sure they had been doing fragrance for a while but I was skeptical to try them. I had heard many people raving about them though so when I spotted this in store, I gave it a whiff and actually really liked it. So I decided to pick it up and that set off an entire 'I want to try more' spiel. In fact, I now regret not picking up another fragrance from this line with was called Rain no. 2 Bergomot & Leather Spritz which reminded me of Dior's Dior Homme which is one of my favorite men's fragrances (yes for myself). I didn't pick it up because of that similarity but now I wish I had.
Review: Zara Rain No. 4 Amber & Fig Cashmere fragrance
One thing you should know about ZARA fragrance is that it is much more affordable than many of the department store brands, let alone more niche fragrance brands. And the cool thing is: ZARA dupes out many more expensive perfumes. Or at least they try to. That said, some people will say something is a perfect dupe while others claim it is not. As with any fragrance it all depends on your body chemistry whether something will smell a certain way on you or not. At €25.95 these aren't super cheap but you get 100 mls of product which is quite a generous amount.
What does this fragrance have to offer?
One thing I didn't know about ZARA perfumes is that some lines they sell are created by none other than Jo Malone. They seem to be doing a line every year that is limited edition which this was last year's take on. This year's seems to be ocean inspired. The perfumes stay around for some time though so you can usually find them. And the Rain no. 1 fragrance actually was back in stock for some time, so I had my hopes up for the others to come back too, but so far I haven't seen them yet. Hopefully soon! As I mentioned in my intro I bought this after smelling it in store, so I had no idea what the scent profile was like, but once I looked it up on Fragrantica, I knew instantly why I like it so much.
What is this scent like?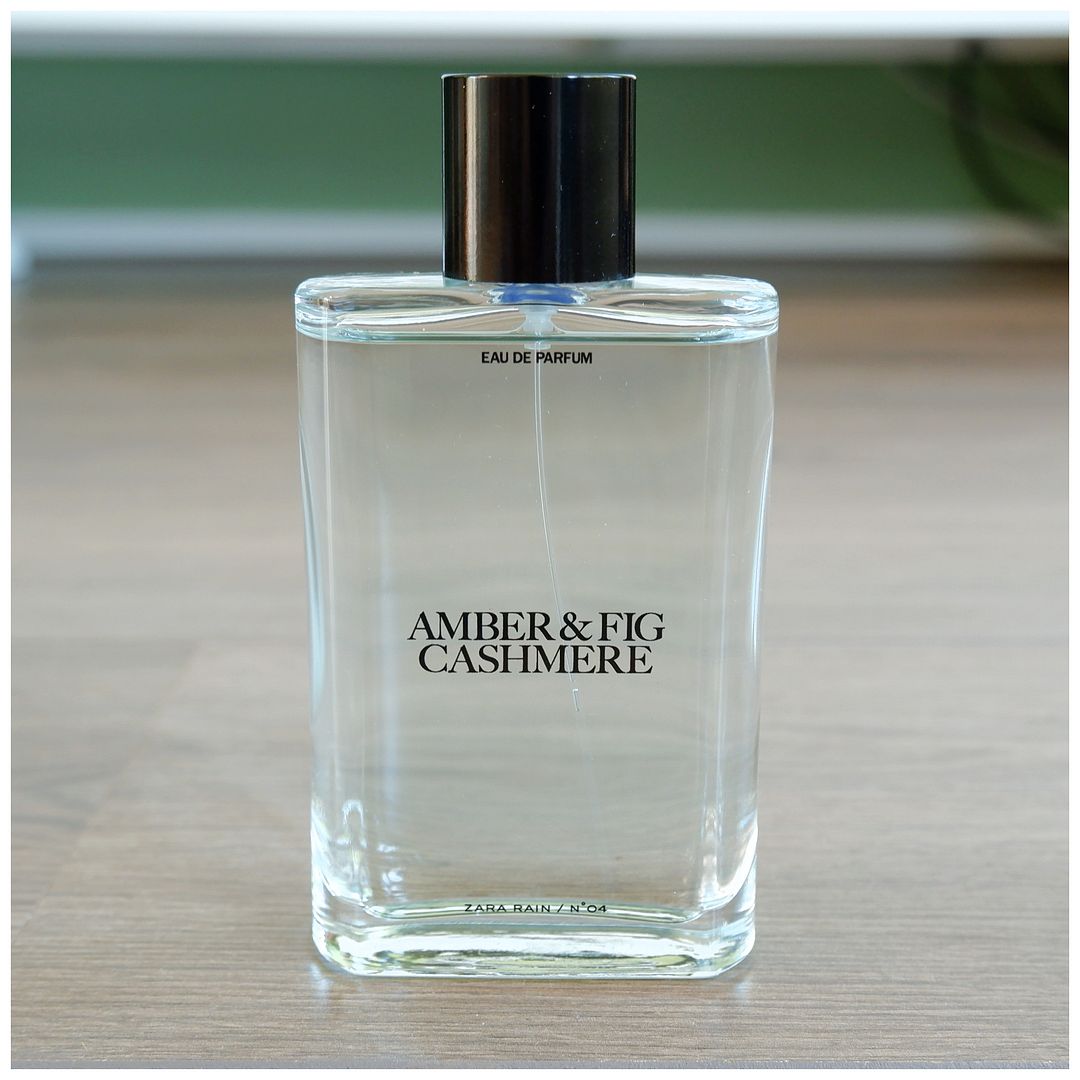 So affordable fragrance by a famous perfume house owner, would that be any good? Turns out it is! Granted, this isn't the longest lasting perfume for me, but I find that this fragrance lasts a decent amount of time and where some people online claim they need to spray a lot of this for it to smell nice on them, for me I just use my normal amount and I feel it smells great. And that's all down to the notes. With top notes of orange and pink pepper, middle notes of fig tree and white woods and base notes of Ambroxan, Ambergris and Patchouli, I knew why I loved this. I love pink pepper in fragrance and some of my favorite fragrances have that exact note!
My final thoughts
I hadn't expected much from ZARA's fragrance line but I have since tried several and I feel it can be a bit hit or miss. Amber & Fig Cashmere was a hit for me and it is one of the favorites I own from ZARA. It is light fresh and great for summer time everyday wear. Since fragrances can give me a headache if they are 'too much', I love how this is a bit lighter and easier to smell. No matter how much I spray this own, I never much overdo it. It can smell a bit alcohol heavy at first but it evaporates quickly and only the scent lasts a good 6 – 8 hours so a full workday indeed.
Would I recommend ZARA Amber & Fig Cashmere?
If this comes back in stock I would suggest you give this a whiff at your local ZARA because it smells divine. Since this is ZARA and it seems discontinued, I don't think this is the type of fragrance you need to hunt down. But I think ZARA's fragrance lines are worth looking into if you are looking for some light refreshing fragrance that doesn't break the bank. Is it the most longlasting most mindblowing fragrance I have ever smelled? No but this is great for an everyday pick for sure.
what do you think of ZARA fragrances?